Product overview
The operation room clock in SYN6104 hospital is a child clock connected to the master clock through the network port. It receives the time information sent by the mother clock (information content: year, month, day, time, minute, second), displays the time information accurately and accurately, and has the function of operation timing and anesthetic meter. It can be manually set or also can control the timing time through the remote control. The clock is equipped with a backup battery, which does not display when the power is cut off, but the internal clock can run continuously for 72 hours, that is, the power supply is restored within 72 hours, so it is unnecessary to calibrate the time. To provide users with precise, standard, safe, reliable and multi-functional time service.
Product function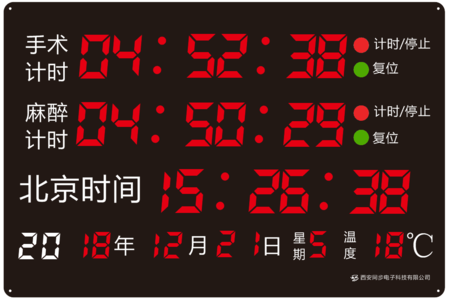 1) the timing of anesthesia and operation can be set manually and remotely.
2) display contents: anesthesia timing, operation timing, year, month, day, hour, minute, second, week, temperature, etc.
3) set up time reference with mother clock and highlight digital display.
Product characteristics
A) has high cost performance and wide application.
B) has high precision and strong anti-interference capability.
C) bid farewell to traditional voltage drive, greatly extend the life of LED luminescent tube, ensure that the system has no obvious heating and hot phenomenon for a long time.
Typical application
1) hospital operation room display time;
Technical index
Input signal

Interface mode

RJ45

Support agreement

NTP/SNTP V10, V20, V30, V40, UDP, Telnet, IP, TCP

display

Luminous intensity of LED display unit

More than 200cd/

contrast ratio

More than 10:1

Visual angle of LED display

More than or equal to 65

LED display MTBF

More than 30000 hours

Backup battery

More than 72 hours

Display content (determined by size)

Anesthesia timing, operation timing, days, days, minutes, seconds, weeks, temperatures, etc.

Independent timing accuracy

Less than 0.2 seconds per day.

Operation settings

Standard: key / network

Option: remote control

Environmental characteristics

working temperature

0 C ~ + 50 C

relative humidity

20% to 85% (no condensation)

Storage temperature

-30 C ~ + 70 C

Power supply

AC 220V + 10%, 50Hz + 5%

size

430*280*55mm

Option

RS485 timing, RS232C timing, GPS receiver, GPS Beidou dual-mode receiver, CDMA receiver, lightning arrester, customized antenna cable (50 m, 80 m, 100 m, etc.) are available for timing.